10.5/7KG 6 Motion DD TrueSteam Washing Machine with Smart Diagnosis™ technology
Key Features
6 Motion DD
True Steam™
Eco Hybrid™
Full Touch Control Panel
NFC Tag
Smart Diagnosis™
LESS VIBRATION, LESS NOISE
The direct drive motor that powers our washing machines is super reliable and really quiet. We know it is one of the best wash machine motors on the market, which is why all our machines come with a standard 10-year warranty on the motor and parts. Nothing standard about that now, is there?
OPTIMAL WASH for fabrics with
6 Motion DD
Select a wash program and 6 Motion Direct Drive technology moves the wash drum in multiple directions, giving fabrics the proper care while getting clothes ultra clean.
SAVE WATER, SAVE TIME with Eco Hybrid
Eco Hybrid technology with Energy A rating saves water or shortens the drying cycle*. You can choose to Eco dry or normal dry. ECO dry mode uses no water for drying. Normal dry mode shortens the entire cycle, cutting back energy costs.
*Tested by LG Lab, based on 6Kg of EU standard load, 220 times per year.
**0l/kg for condensing, 1.5l/kg for fileter cleaning only.
SAVE ENERGY, SAVE TIME with LG ECO Hybrid™ Dryer
Hybrid dryer can make low temperature drying with high energy efficiency and gentle care for sensitive fabrics.
*Comparison between LG 8kg energy A and energy B dryers.
**Based on average Eurostat for Germany, France and UK, second half of 2012.
*Versus LG energy A rated dryer ECO mode for 8kg (LG Lab tested)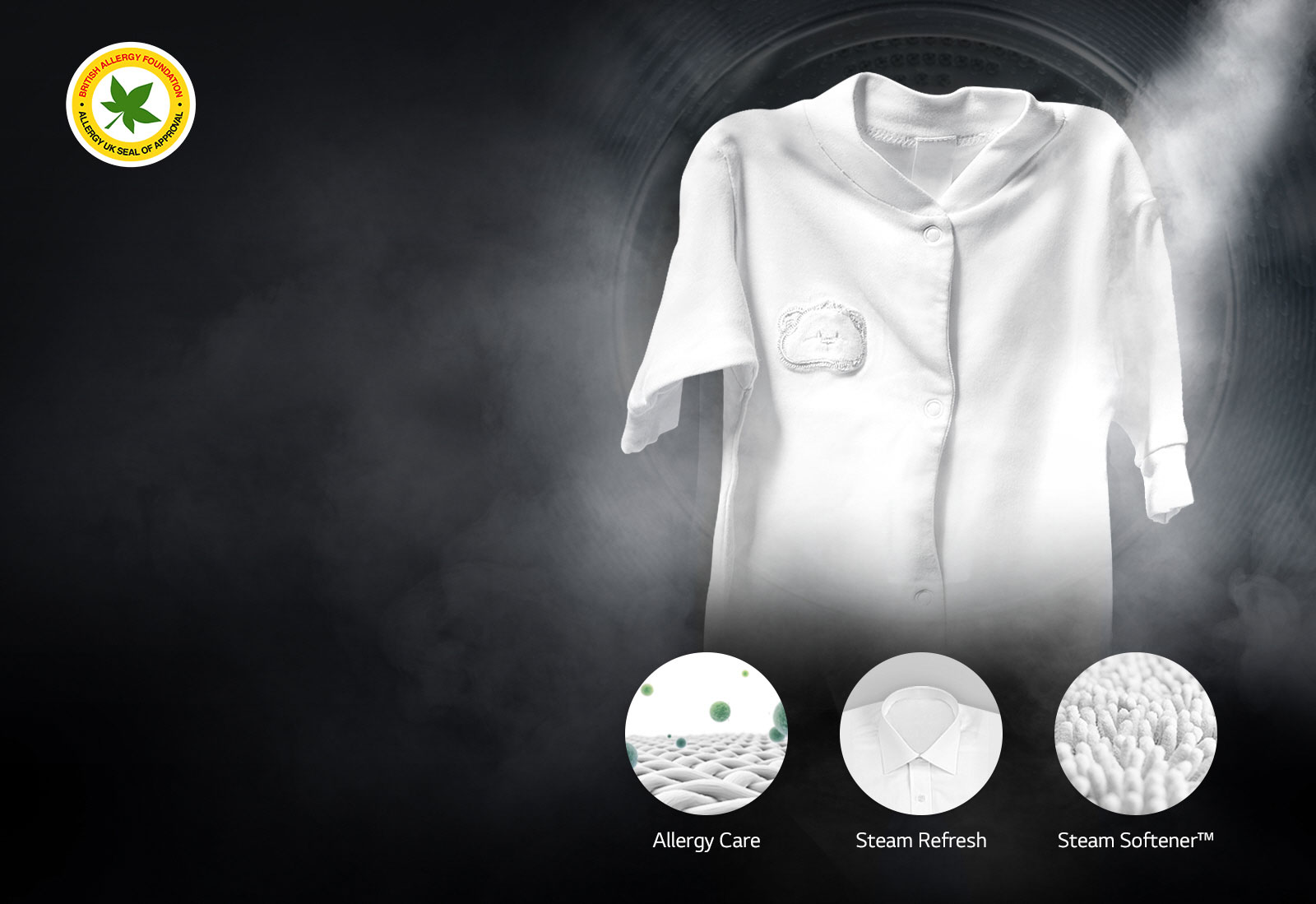 99.9% ALLERGENS REDUCED with True Steam™
Three-in-one True Steam™ technology: Allergy Care removes allergens from clothes by optimal temperature control. Steam Refresh freshens up clothes in just 20 minutes – less wrinkles and fewer odors without any ironing. Steam Softener™ only uses pure True Steam™ water, the most hygienic softener ever. Ideal for baby and sensitive skin.
Washer and Dryer in one
LG's Washer Dryer is another of our leading appliance technologies. Save space in your home and make more room for your family. LG Washer Dryer means you don't need to buy a separate dryer but still get your clothes sparkling clean and dry, too.
Less Time, More Life
TurboWash™ technology cleans your clothes with less time*. JetSpray sprays clean tap water onto your clothes making rinsing cycles even more efficient than before.
*Tested by Intertek. Based on IEC 60456 : edition 5.0 2010-02 test protocol. Half loads on Cotton 40℃ cycle with TurboWash option. The program time may vary depending on the actual environment.
FULL TOUCH CONTROL
New full touch control boast a seamless and sleek design that brings a touch of sophistication to the home. Each model in the lineup offers a full touch control panel angled for maximum visibility.
Smart Convenience with NFC
Tag On lets users download new wash programs to a smartphone, such as Wool, Baby Care or Cold Wash. Tap the NFC Tag On symbol to install the program on the machine. Cycle Download stores up to 20 cycles and annually updates downloaded cycles. Smart Diagnosis quickly troubleshoots almost any minor issue before it becomes a bigger problem.
SmartThinQ™ with Wi-Fi
LG Smart ThinQ™ with Wi-Fi makes laundry much more convenient. Smart Remote Control enables you to do your laundry anytime, anywhere. With Download Cycle, download up to 20 additional wash programs. Smart Diagnosis™ helps you quickly troubleshoot almost any minor issue before it becomes a bigger problem.
Features
Why buy LG's products on online
100% Original Product

Buy Direct

All range of Product

Same Day Dispatch

Free Delivery in All Towns*

Cash on Delivery 

OnSite Warranty

Free Transportation to Service center

2 Year Warranty 

Packed prodct